Grey's Anatomy; M.A.G.I.C (Meredith, Alex, George, Izzie, Cristina)
Made for
waywardmixes
round four: groups.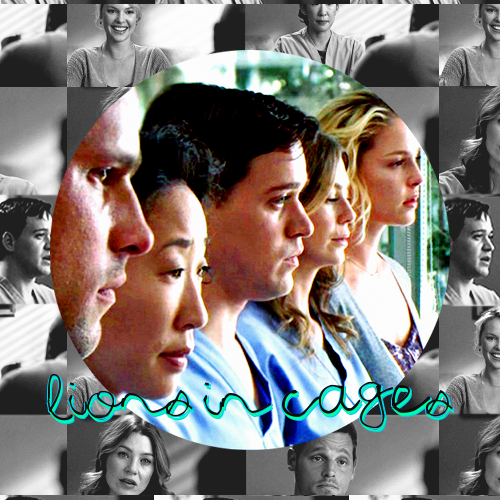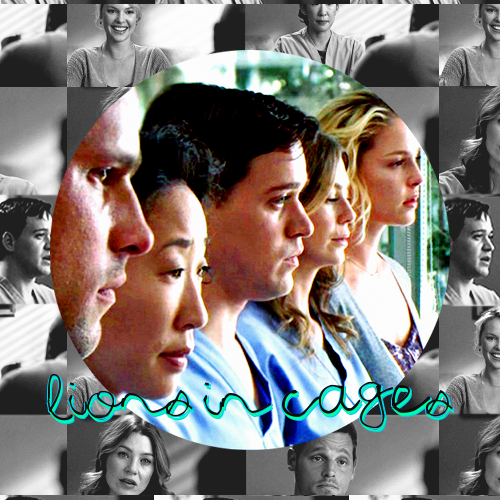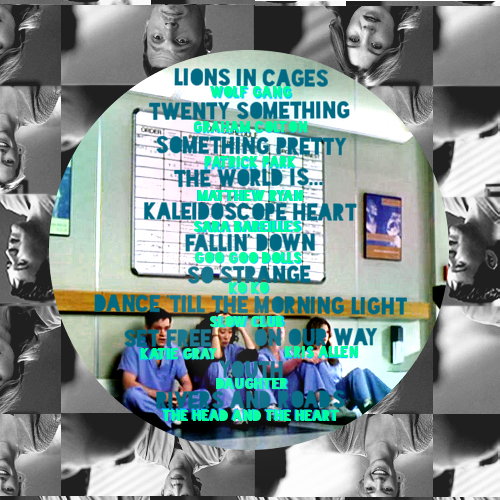 DOWNLOAD
+
+
♬
8TRACKS
There's an old proverb that says you can't choose your family. You take what the fates hand you. And like them or not, love them or not, understand them or not, you cope. Then there's the school of thought that says the family you're born into is simply a starting point. They feed you, and clothe you, and take care of you, until you're ready to go out into the world and find your tribe.
- Meredith Grey
Let's say you were drafted to a team that wasn't your first pick. You know, you don't like the players. You hate the way they play the game. You even think the quarterback is full of crap. The quarterback's a pain in the ass you don't owe a damned thing to. But, it's your team. You don't quit. You don't talk to the press. You don't bitch to the coach. You just, you just go out there every Sunday and you make the blocks and you take the hits and you, you play to win. You show up and you suit up and you play, because it's your freaking team.
- Alex Karev

Lions in Cages ✰ Wolf Gang
in the city where i'm from / they shoot you down if you're wrong
but we don't stop to check the time /'cause time keeps moving on and on and on

who's gonna get up after where gone? / who's gonna get up after we've fallen?
who's gonna pick up what we've done wrong? / who's gonna get up after where gone?
Twenty Something ✰ Graham Colton
all my good intentions / are they ever good enough?
am i only running circles while i'm here?
this is where it all begins / i'm giving up on giving in now
i'm not afraid of where i've been / halfway between somewhere and nothing
Something Pretty ✰ Patrick Park
i was a dumb punk kid with nothing to lose / and too much weight for walking shoes
i could have died from being boring /as for loneliness she greets me every morning
at the most I'm a glare / i'm the hopeless son who's hardly there
i'm the open sign that's always busted / i'm the friend you need, but can't be trusted
The World Is... ✰ Matthew Ryan
this is an invisible song / from an invisible man
lost in the wilderness / of a static avalanche
i started out with wonder / with air on my teeth
careful what you wish for / there's something underneath
Kaleidoscope Heart ✰ Sara Bareilles
all the colors of the rainbow / hidden 'neath my skin
hearts have colors don't we all know? / red runs through our veins
feel the fire burning up / inspire me with blood of blue and green
i have hope / inside is not a heart / but a kaleidoscope
Fallin' Down ✰ Goo Goo Dolls
do you know, where you want to go? / i ain't got time for you now
you're making me fall down / i'm fallin' down again
i wish you could fall down / can you catch me darling? i'm gone
So Strange ✰ KO KO
who cares about my name?
who cares that we're not dead?
who cares if I haven't given up?
who cares that i'm a man who knows what he wants?


Meredith's had to deal with her mother's Alzeimers and expectations. Alex's had a girl go crazy on him. Izzie's lost Denny, Cristina's lost Burke. George has gone from Meredith to Callie to Izzie. They're pushing through it all, but they're going forward.
Dance 'Till The Morning Light ✰ Slow Club
connected by rain, they said you're all the same
but i don't know, i don't know if they're telling the truth

there's always that someone who'll be easier on your eye
so forget the politics of living alone and just dance til the morning light


They never really chose each other, but they're a family nonetheless.

"You don't have to like Alex, you don't have to care about him, but you damn well have to be on his side."- Miranda Bailey
Set Free ✰ Katie Gray
and we'll never, never make it
and we'll never, never break it
until we learn to see
until we set free
There are things they have to let go, and they learn that. Every time they're about to back out, to give up, they help each other let go and start moving forward again.

They become residents, they become better surgeons. They learn and grow and they're on their way to going places. On some level, it does get better. It gets easier.


On Our Way ✰ Kris Allen
i know that you have questions
and oh i know that you don't know where to start and oh
just wait you'll see
it get's better, don't give up when you're on your knees because
you are on your way, on your way to make it all make sense



George dies. Izzie gets cancer. Izzie leaves. This song is them.
It's who they are, what they've been through and where they are now all at once.
Youth ✰ Daughter
shadows settle on the place that you left
our minds are troubled by the emptiness
destroy the middle, it's a waste of time
from the perfect start to the finish line

and if you're still breathing, you're the lucky ones
cause most of us are heaving through corrupted lungs

we are the reckless / we are the wild youth
chasing visions of our futures /one day we'll reveal the truth
that one will die before he gets there


Cristina, Alex and Meredith are going to different places in life.
They will eventually have to part ways.

Rivers and Roads ✰ The Head and the Heart
a year from now we'll all be gone
all our friends will move away
and they're going to better places
but our friends will be gone away
→ comments are always appreciated :)
→ watch
levelesvoiles
for more mixes & graphics
→ enjoy ♥